High Quality Equipment Financing
CloudRay has partnered with Clicklease to provide high quality equipment for a low monthly payment customized to fit your budget.
It's never been easier to afford the equipment you need to grow your business.
Apply in just 4 minutes and get a real approval in seconds—no hard credit pull, no documents needed.
How to Apply for Financing Your Cloudray Order?
Step 1. Customer Apply for Clicklease Financing
Please directly contact Clicklease Official if you have any questions for applying, we just offer a reference for how to apply, your financing behavior is not related to Cloudray Official, it will be the business behavior between you and Clicklease Official
Clicklease Official Contact: 888-509-5592 7:30 AM - 5:00 PM MST
(1)Click Clicklease Apply Buttom, it will skipped to Clicklease Official Page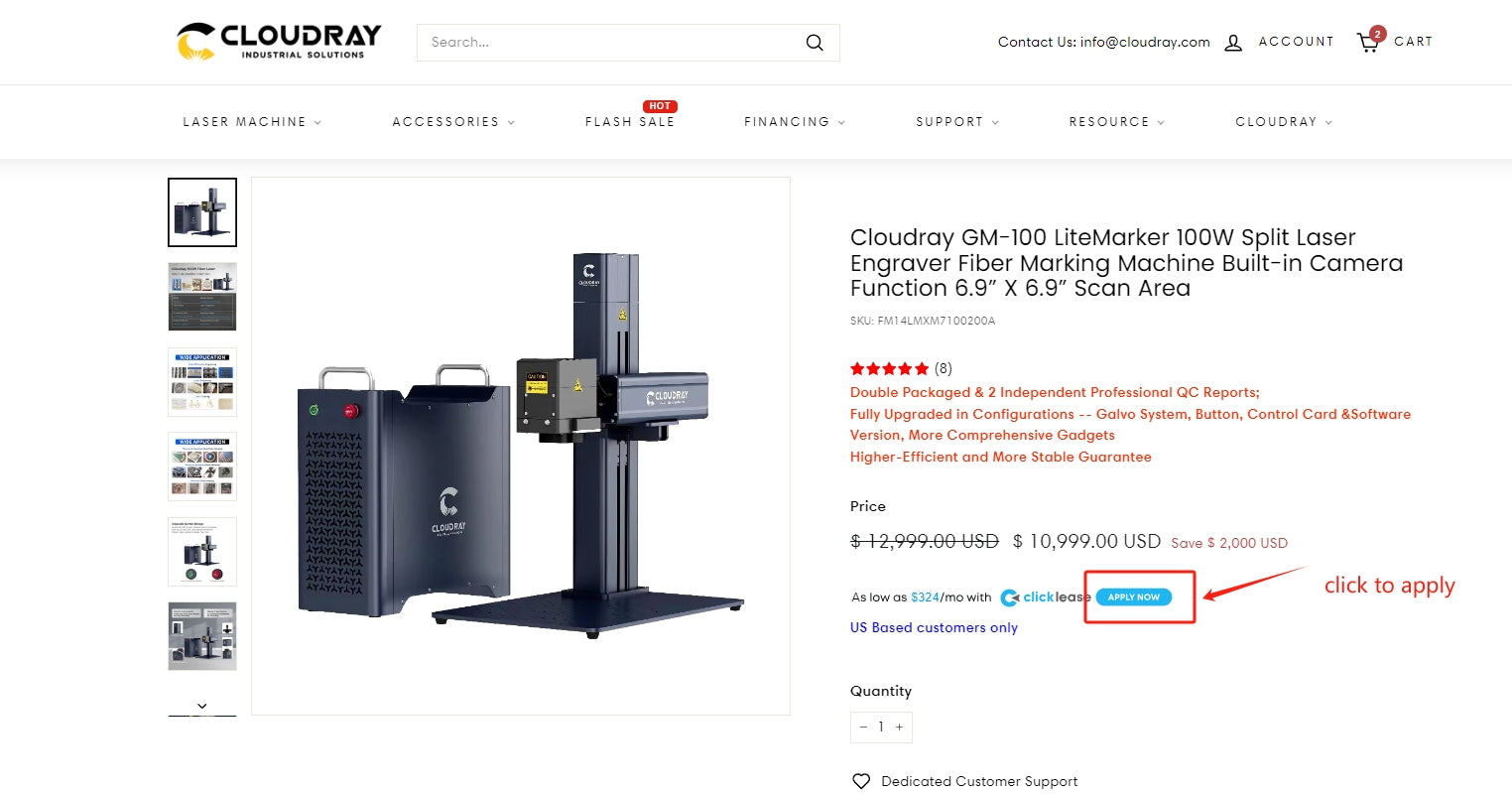 (2) When the webpage skips to Clicklease's official page, then click "Apply " button to fill in your personal information to apply for a Clicklease account, you need to offer your basic information with Clicklease, and Clicklease will verify and offer you the related amount of financing according to your basic information.
(3)You need to fill in your basic information on the Clicklease Official website step by step, all your basic information is visible to Clicklease only, not to Cloudray or the Public, please don't worry any your personal information leaking out.
(4) Waiting for Cliclease review notification, if you are qualified for financing, Clicklease will email to notify you that you have been approved for financing for a fixed amount. (how much you can get for financing, will depend on your final situation based on your information submitted to Clicklease Official)
Step 2: Waiting for Clicklease Invoice 
As you get approved, Cloudray will get notification from Clicklease Official, we will contact you via email to check with you which product you would like to order from us? (your email address will be shared with us from Clicklease in case that we can cotnact you directly)
Step 3: Customer Sign Contracts
As we confirm your request, we will create draft order for you , we will fill in order number and the order amount in clicklease system, they will automatically generate the contracts which will including the information we offer ( draft order number and order amount), the clicklease system will email you to notify that to sign contract, you just need to check in your email address, click "link" content in the email to skip to sign documents.
Step 4 : Cloudray Submit the Final Invoice in Clicklease System 
As we get notification from clicklease that you had completed the contracts and we will check with you again with your order list (all product information ) , we will submit the final Invoice in Clicklease System. 
Step 5: Clicklease review invoice
Clicklease will review the invoice and check with customers the details of orders and order amount again to check the final financing amount you would like, as all confirmed, Clicklease will approve your financing application.
Step 6 Clicklease Funding

As Clicklease confirms your order request and financing amount, they will directly deposit the order amount to Cloudray Bank, it means that you borrow money from Clicklease to pay for a CLoudray order, what you need to do is to pay back a fixed amount of money monthly as the repayment cycle you choose in Clicklease System.
Step 7 Cloudray Create the formal order for you
As we get the payment from Clicklease, we will switch your draft order to a formal order, offering you the final order number and ready shipping for you.
Step 8 Cloudray Ship the products out and offer tracking number to the Customer and Clicklease

As it shipped out, we will fill in the tracking number in our backends, and our system will notify us via email automatically, and we will also offer the tracking number to Clicklease officially, Clicklease will be responsible for supervising the entire progress until the package is received by the Customer.

Notification: Please ensure you repay the financing to Clicklease in time each month.