Cloudray 2 Phase Nema34 Open Loop Stepper Motor Driver Kit 34CS35D-280+ DM860S
SKU:

SM47N34CS35D280/SMD10SRDM860S
Cloudray 2 Phase Nema34 Open Loop Stepper Motor Driver Kit 34CS35D-280+ DM860S
SKU:

SM47N34CS35D280/SMD10SRDM860S
Regular price
$ 60.00 USD
$ 60.00 USD
Cloudray Official Quality Inspection(100% brand new original authentic)
More Details of Configurations in Description (Click to Expand)
Secure payments; Lifetime Tech Support (Specialists)
Support Shipping Worldwide
3D printer stepper motor and stepper moter driver
Cloudray motor driver offers you various control modes such as position control, velocity control or torque control for precise motion control system. Cloudray motor driver offer the best-in-class current control for optimal smoothness and torque, robust and flexible on-board control options, and industry-standard industrial network communications.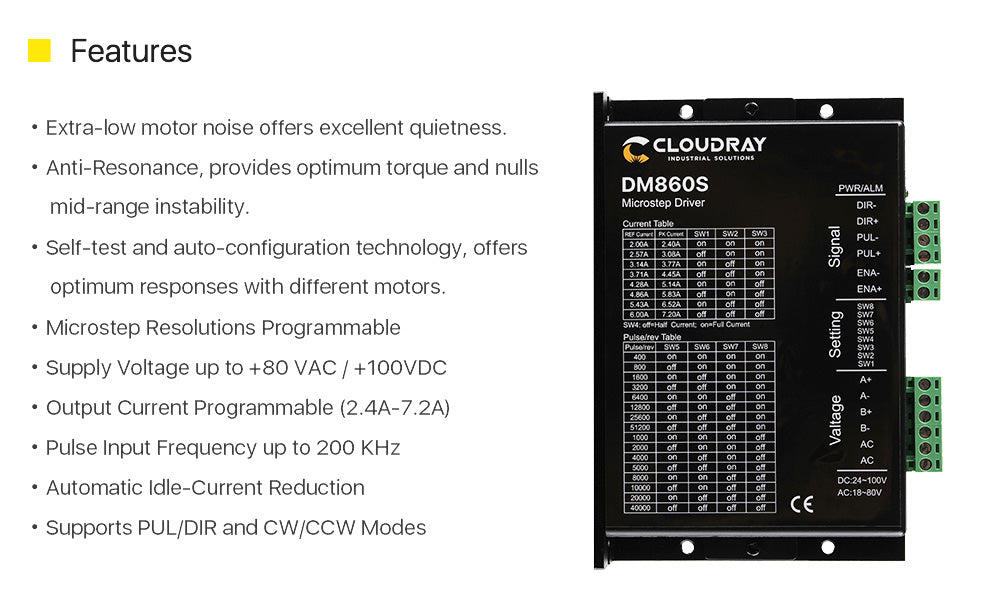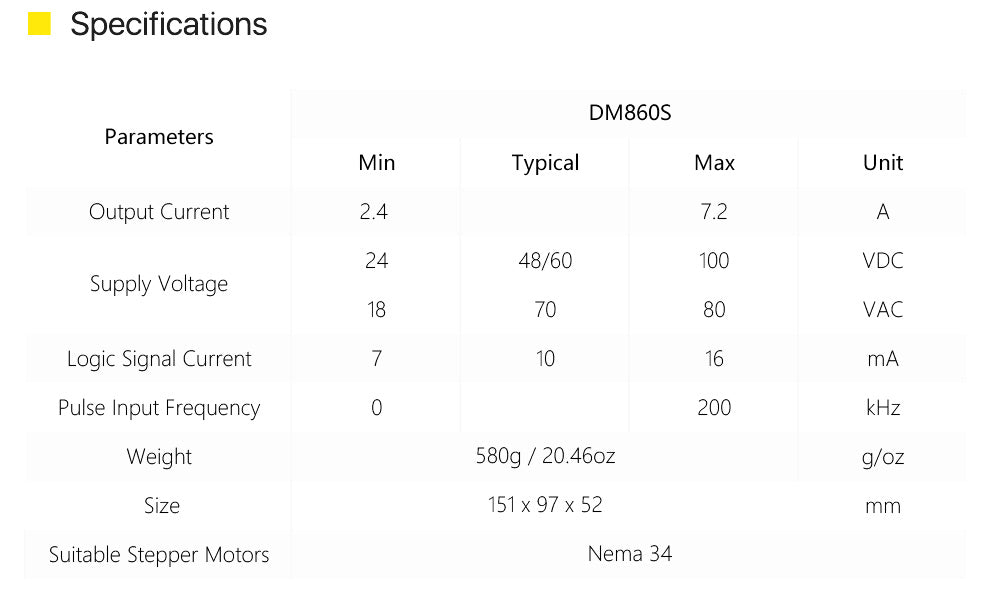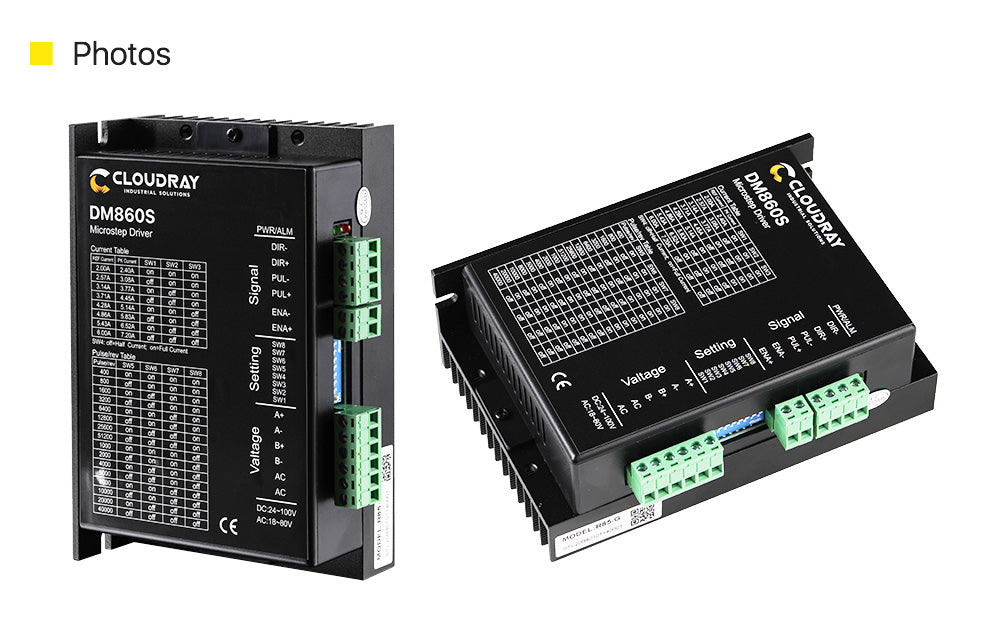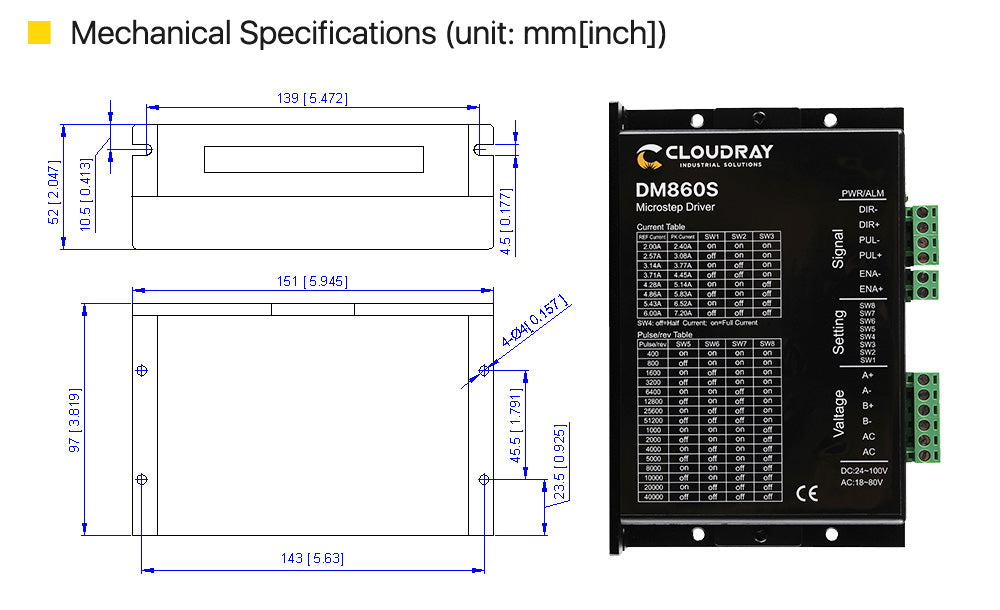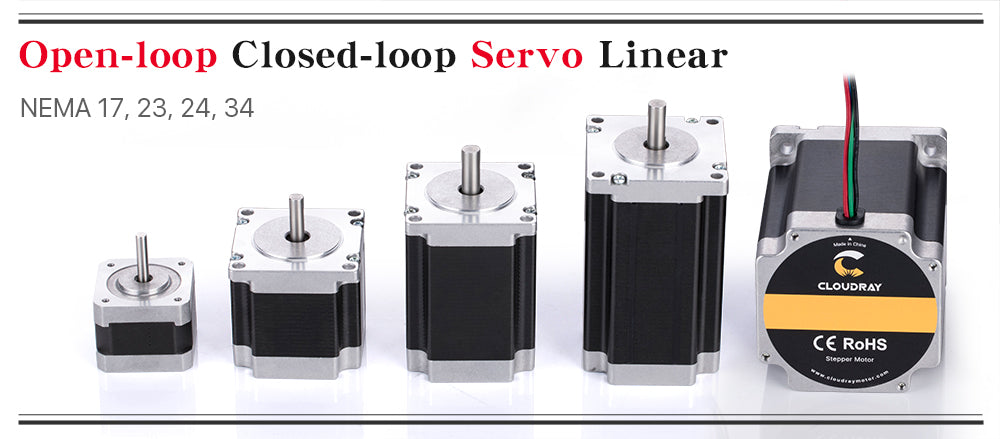 Cloudray Stepper Motor Series has set the standard for quality, reliability, and durability in stepping motors. The precision of our Torque Power motors is matched only by the dependability of their performance. All Torque Power motors are bi-directional and totally enclosed with permanently lubricated ball bearings for long-lasting, smooth operation.
High Torque, High Precision and Long life is Cloudray's core advantages
Low vibration,Low heating, No loss of step
Fast Response,Better Acceleration Performance
Thanks to a robust design they can be selected for the harshest environments. Precise, open-loop, speed and position control can be achieved with the application of full step, half step, or microstepping electronics.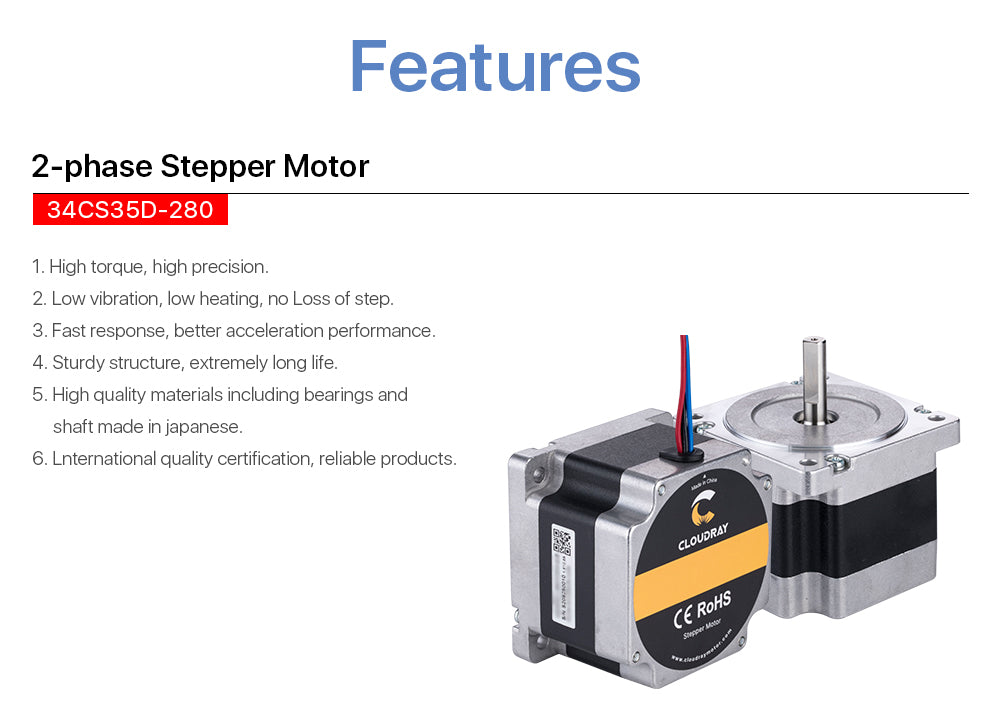 Higher Resolution,Avoidance of Resonance Regions
Stepping angle is adjustable( rang in 18°±5%), 0.9 °stepper motor's stepping angle is smaller, fineness is higher and positioning is more accurate.Avoiding vibration,runs more smoothly and gets lower noise.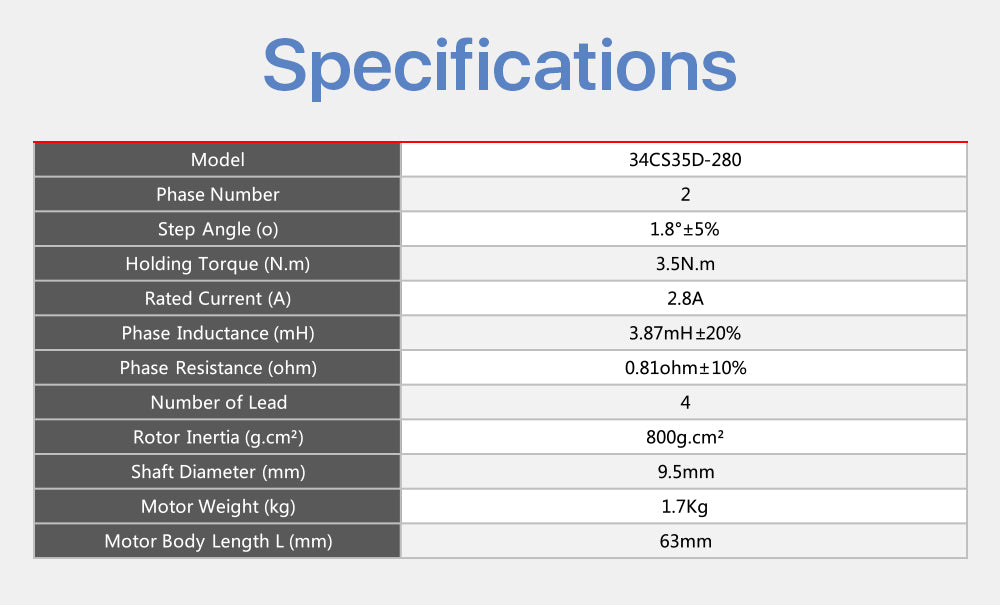 Sturdy structure, extremely long life
High quality materials including bearings and shaft made in Japan
Robust assembly, high speed range, and exceptional performance in even the harshest environments make Cloudray Stepper Motors the perfect solution for demanding positioning applications.
Short length and light weight allow them to be used in highly integrated systems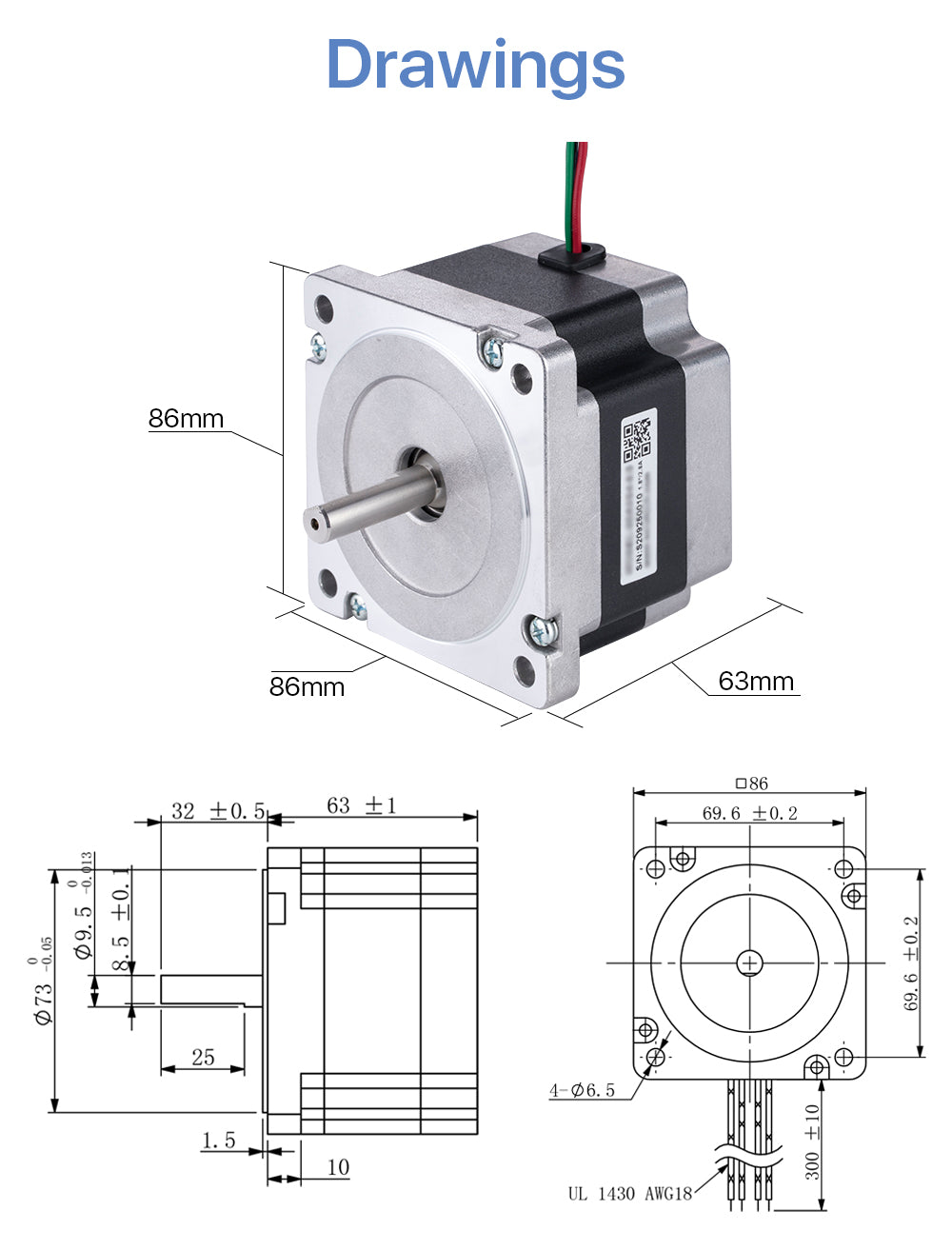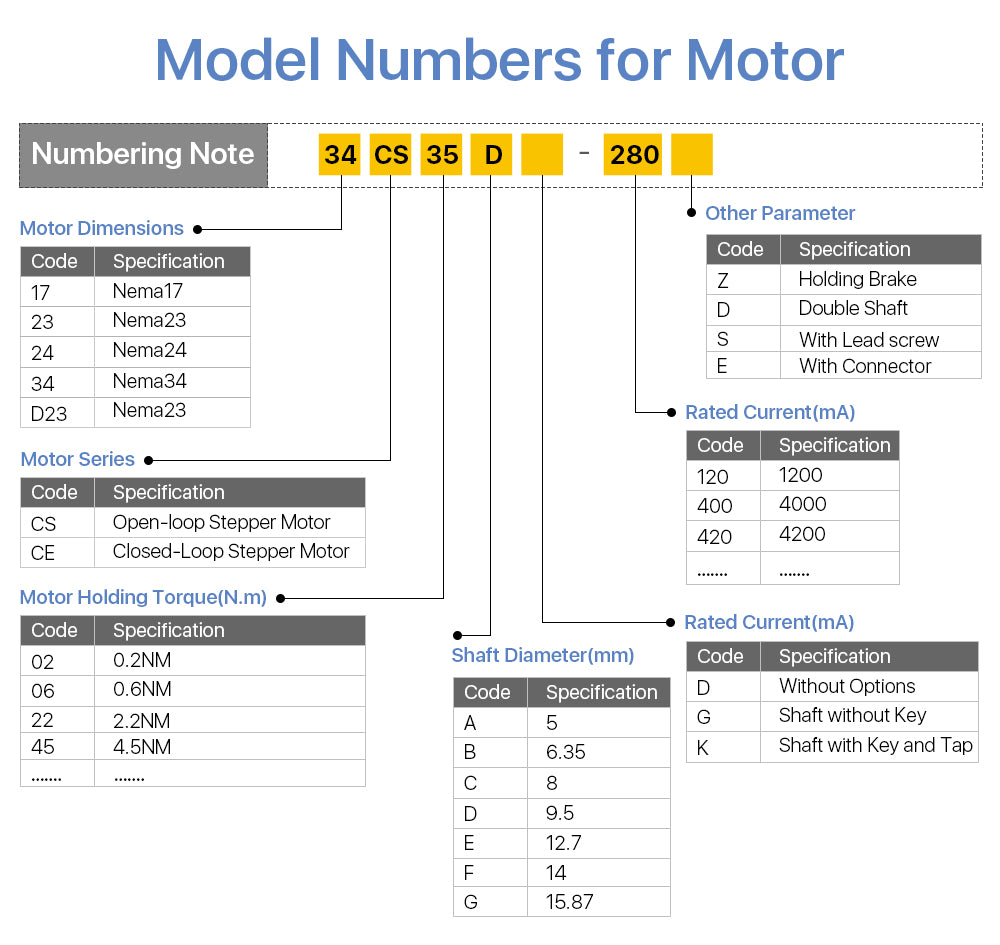 Stepper motor and stepper motor driver application
Cloudray stepper motor and Stepping Motor Driver are widely used in engraving machine, cutting plotter, textile machine, 3D printer, medical devices,stage lighting equipment, robot, CNC machine, music fountain and other industrial automatic equipment.



Notification: Customs clearance inspections (CN Warehouse) will cause delays 2-3 days in logistics.

1. Accessories sitewide: 3-7 Business Days

2. Machine with the default configuration: CN Warehouse: 5-7 Business Days
USA/EU Warehouse: 3-7 Business Days

3. Customized Machine (Only Support Shippment From China Warehouse)
The average period of production: 7-10 Business Days
Shipping: 7-10 Business Days